What should they do?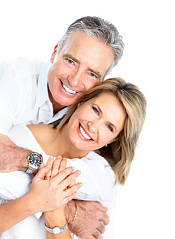 Greg and Yana can enter into the next phase of their life together and still take care of the financial arrangements.
Essentially, both Greg and Yana make a declaration of the assets and liabilities they own before moving in together and include it in their Financial Agreement. They are each responsible for the debts they bring to the table and each can leave with the assets they they have brought into the partnership. If they choose, they can also make provision for separate or combined living expenses.
A Certificate of Legal Advice is also required

Section 90UJ of the family law act requires both parties to obtain certification of independent legal advice from a legal practitioner.
Once the advice is given, the solicitor for each party will attach a Certificate confirming that advice was given prior to the parties signing the Agreement.
This prevents either party from arguing that, at the time of making the agreement, they were unaware of the ramifications of signing the agreement.
Make sure you visit our Agreement Review page to learn more about this requirement and to find out how you can obtain your certificate of legal advice at a fraction of the normal solicitor costs.
Easy to Use Kit available for immediate download
This pre de facto agreement kit has been professionally drafted to comply with section 90UB of the Family law Act and allows you to complete a pre defacto financial agreement with a minimum of fuss. It includes;
The Defacto Agreement template (for either Western Australia or all Other States) – written in plain English
A Comprehensive User's Guide which answers your questions
Sample agreement – so you know what the completed agreement should look like
Sample clauses – help you to tailor the document to your own situation – just cut and paste!
A Bonus Will kit because it's always a good idea to update your will when your life circumstances change, such as separation or divorce, the birth of a child or entering into a new relationship.
Access to the Exclusive Members area which takes you through the process step-by-step
Complimentary Financial Agreement Assessment –we check your draft agreement to determine whether if is suitable for our Legal Review Service. This is how we save you thousands of dollars in legal fees.
Access to fixed price Legal Advice (Legal Review Service

$

covers both parties in most cases) so you can get your agreement certified without spending a fortune.
Get Started Now – Before Cohabitation or Pre De facto Agreement Kit – Available for Immediate Download, Only

$
Buy pre defacto agreement for Australian States other than WA
Buy pre defacto agreement for Western Australia
A few sample pages of our Pre de facto Agreement
We've shown the agreement for all states except W.A. The grey boxes indicate form fields where you enter your personal information. Yellow highlights indicate areas where you will choose a clause that suits your situation.